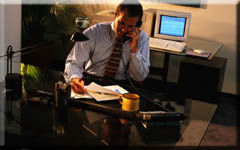 We believe successful investment management firms must understand clients' needs, provide competitive long-term investment results, and, most importantly, communicate effectively with their clients.

The ideal investment advisory firm is one where experienced counselors with access to research support apply a disciplined approach to a select group of client portfolios in an environment free of any conflict of interest.
Our typical Client?

Virtually any individual who is serious about working towards achieving and maintaining financial independence. Having said that, however, our typical Client tends to be an over 40, self-employed business owner or working professional. Our other Clients are generally corporate Clients or retired individuals. In terms of investment capital, most of our Clients have combined investment portfolios in excess of $750,000 and more than 70% of our Clients have used our training and experience to help them with their investment needs for over 13 years.
When selecting an Investment Advisor, there are three primary issues. First, obviously, is the issue of experience, training, competence and integrity. Second and most importantly, what process or processes will be used? Next, the Client should focus on the Advisor's level and kind of expertise and services that the Client believes they need - can this Advisor help me to achieve my financial goals and objectives? And finally, after these discussions, do you feel that you can work with the Advisor?

Process is at the heart of any Client's investment program. The Advisor must understand your needs, objectives, risk tolerance and current financial holdings and circumstances. You cannot expect the Adviser to competently assist you if this understanding is not achieved. Therefore, during the first meeting, the Advisor must obtain a general understanding of you as an individual and then attain a clear understanding of your investment objectives and tolerance for risk. The Advisor should also determine what additional investment constraints applying to your circumstances. These constraints include liquidity issues, emergency cash needs, spending goals, income taxes, estate taxes, investment flexibility, legal constraints, and other unique preferences and circumstances that may be specific to you as an individual.

Your investment goals, may, in broad terms, include:.. investing for income during retirement. ...children's education, providing a nest egg for your children and/or grandchildren, charitable endowments or extended travel. These are personal reasons to invest. The list is specific to the individual and may, over time, change based upon changing desires, financial and other circumstances. It is, however, important to be realistic and the Advisor must translate and address your goals in terms of investments that are suitable and appropriate based upon an understanding of the investment constraints.
Setting goals and establishing objectives is at the heart of every investment program. Sometimes the process is referred to as the "means-end chain." It is at this point where specific investment categories come into the picture. Categories such as aggressive growth, growth and income, or income only. For example, when it is suitable and appropriate, a Client might weigh his portfolio toward aggressive growth, given that his tolerance for risk and investment constraints are not exceeded and that his liquidity needs are low. Many who have studied this issue have concluded that the asset allocation decision is the primary determinant of successful investment returns.

Others, such as Warren Buffet, probably the world's most successful investor, believe that focused and careful selections are what count. An important point, however, that every Client should completely understand and comprehend is that the investment Advisor who attains a return of 25% is not better than one who only attains 5%. That's crazy, you say but the truth is that the investment portfolio is designed to satisfy objectives. If the objective is current income with safety of principal, for example, the Client cannot expect 20% returns. With this scenario, the Advisor may have done his job even though the returns are below, say, the Dow Jones average or the S&P 500 returns. The issue of risk must be addressed.

Risk is somewhat personal. Many people define risk in terms of their personal characteristics and their ability and willingness to lose money for an opportunity of financial gain. The Advisor must work to determine the Client's comprehension of and his personal tolerance for risk in relation to the "risk', inherent with specific investment. The inherent risk of an investment must be communicated to and matched with the individual's tolerance for risk. Many times, individuals express their tolerance for risk in conflicting ways. In the investment world, high risk is generally required when seeking high returns. Individual's, however, regardless of their stated tolerance for risk, tend to be "risk averse" and may blame the Advisor for results that are unsatisfactory, relative to the Client's desires but consistent with the Client's tolerance for risk. In other words, the Client communicated a low tolerance for risk but desired high returns that require assuming risks inconsistent with the Client's stated tolerance and financial capabilities.

So, you see, a good Advisor will take the time to explore these issues with the Client, thus allowing the Advisor to better understand the needs, risk tolerances and constraints of the Client, and he will work hard to avoid allowing the Client to say "just get me a good return on my money.

Following these discussions, an investment policy statement should be prepared and signed by both the Client and the Advisor. This statement can be extensive or brief - however, it should cover the necessary investment objectives, tolerance for risk, and constraints. Also, this statement serves as the basis for the investment recommendations the Advisor will present to the Client. It can also specify how the Advisor will monitor the investments and the Client's portfolio. I should further state that an investment policy statement could also be in the form of a financial plan or vice-versa. In other words, it's hard to put an upper limit on the content of an investment policy statement; however, we can state that it should address, as a minimum, the Clients investment objectives, tolerance for risk and the various constraints that may be before the Client.

The policy statement and/or financial plan needs to be revised whenever the Client's factors or circumstances change. As a rule of thumb, it should be reviewed at least annually, but as we all know, circumstances can change without notice. The investment policy statement should be updated as the Clients circumstances change. The important point is to know what it takes to establish and maintain a satisfactory working relationship with your financial Advisor. The investment policy statement establishes the ground rules. What has been discussed here sets the stage for goal business relationship. The Advisor should ask about changes periodically, but the Client must also be willing to promptly communicate changes in goals or circumstances as they occur.

If visitors to this site like what they have seen and would like to get started on their own investment plan or find out if their present plan is on track to achieve their goals, what should they do?

They should email or call. We will be happy to answer questions and meet with them at their convenience. As mentioned earlier, it's important to take control of this critical aspect of your life to allow time and the magic of compounding to work become a part of your plan.

We are confident that a conservative, portfolio management approach using a consistent and disciplined decision-making process will provide investment returns consistent with targeted objectives and risk tolerance over a long-term investment horizon.

If you would like to discuss your investment portfolio or just take us for a "test drive" please contact us. We provide customized services for specialized needs. We are not for everyone but we may be right for you. Thanks for visiting.